Quick links
What is the Outbound Email node?
---
What is the Outbound Email node?
The outbound email node sends an outbound email to recipients.
Double click on the outbound email node, or hover over the outbound SMS node on the canvas and click on the settings icon to open the settings panel.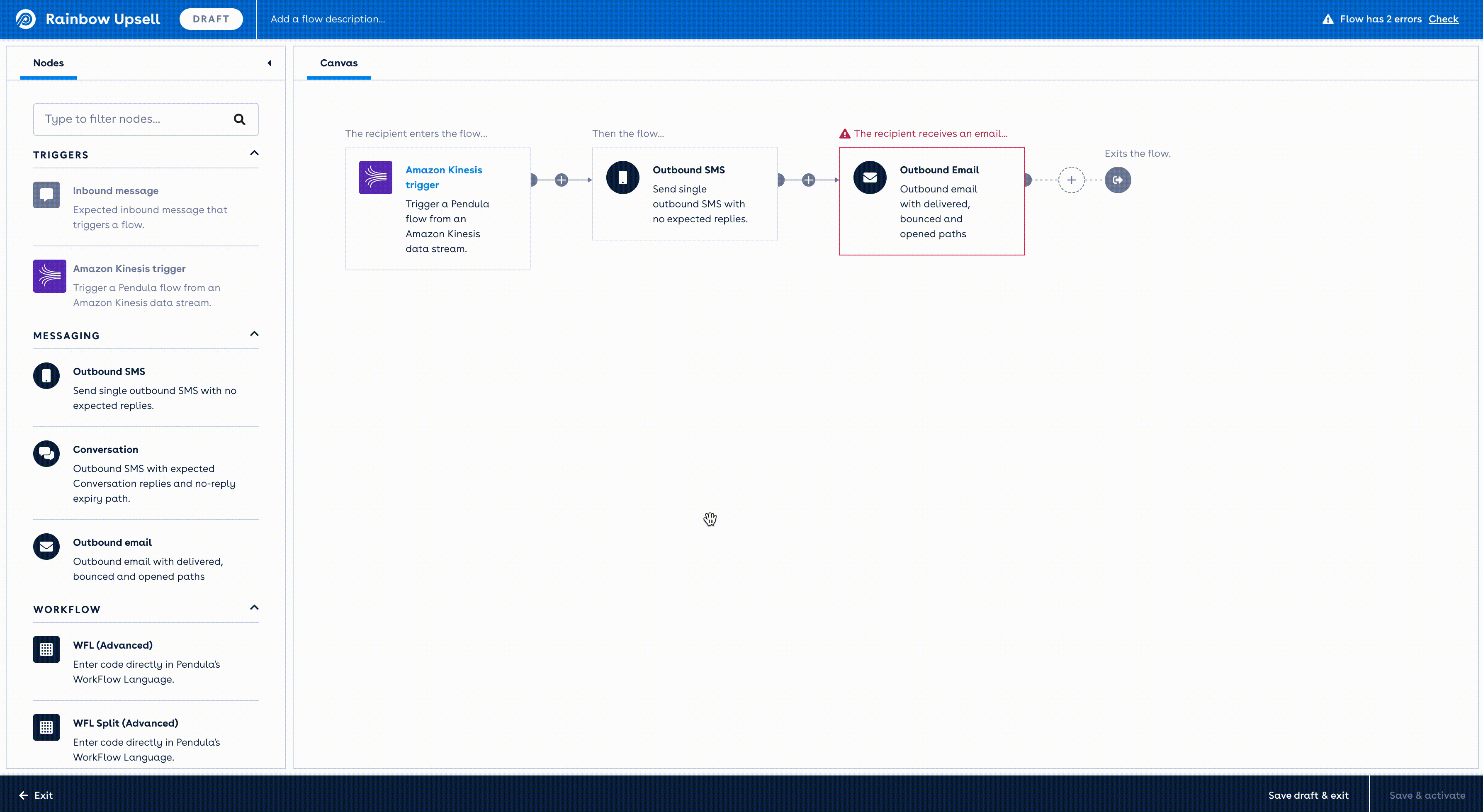 Set up
---
Under the 'Sender details' section, you can choose a sender name and from address, if enabled. Note that 'From address' most either be a Pendula verified email address, or an address on behalf of a Pendula verified domain.
Under the 'Email details' section, you can choose the recipients and the email subject. Merge fields may be referenced in these text fields – refer to the merge fields section for details.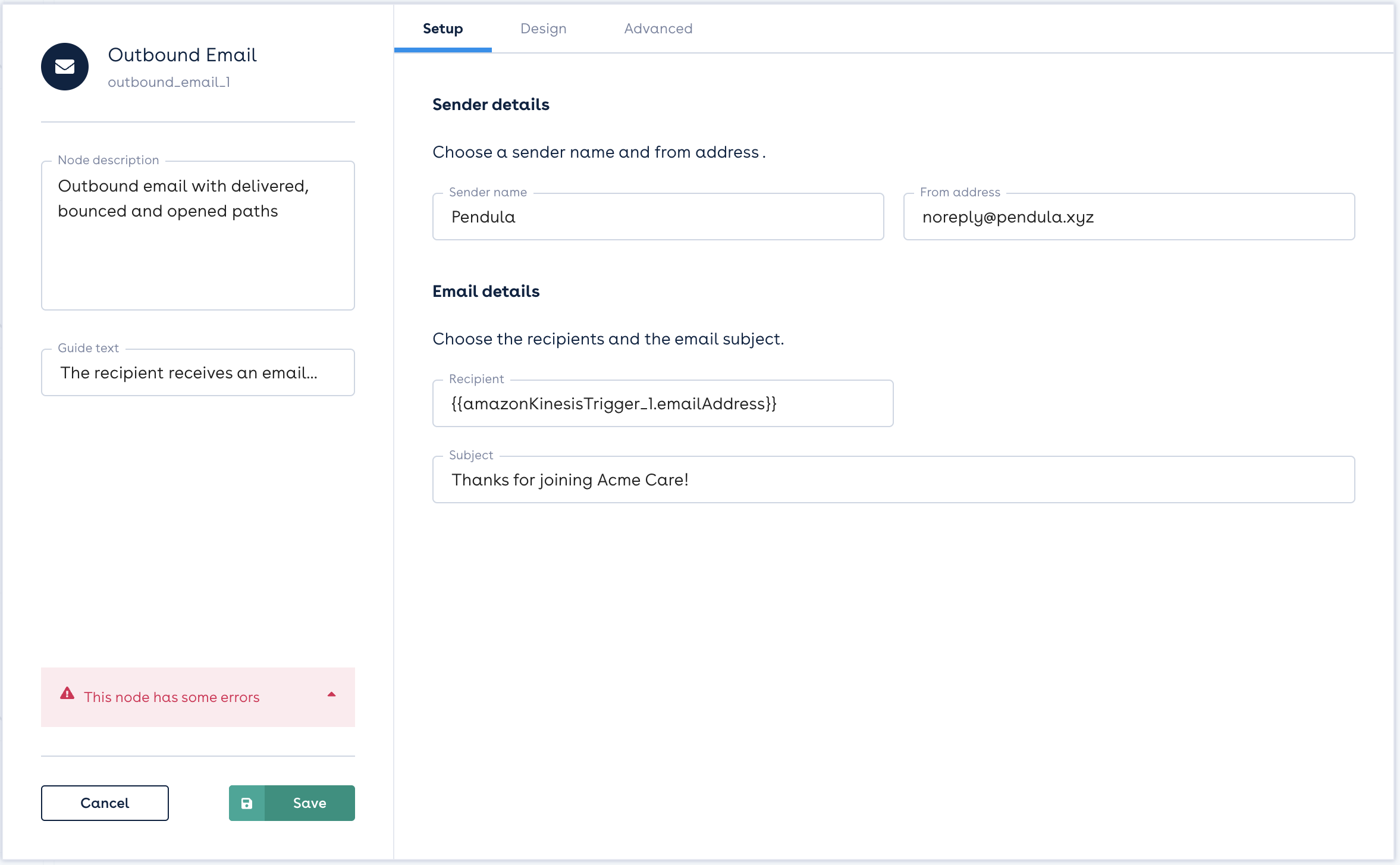 Design
---
Here is where you can drop code, build from scratch or preview an email. It is recommended to build an email from scratch for optimised and robust emails. This means that emails built using this email builder is optimised to be visually consistent across potential viewing email clients.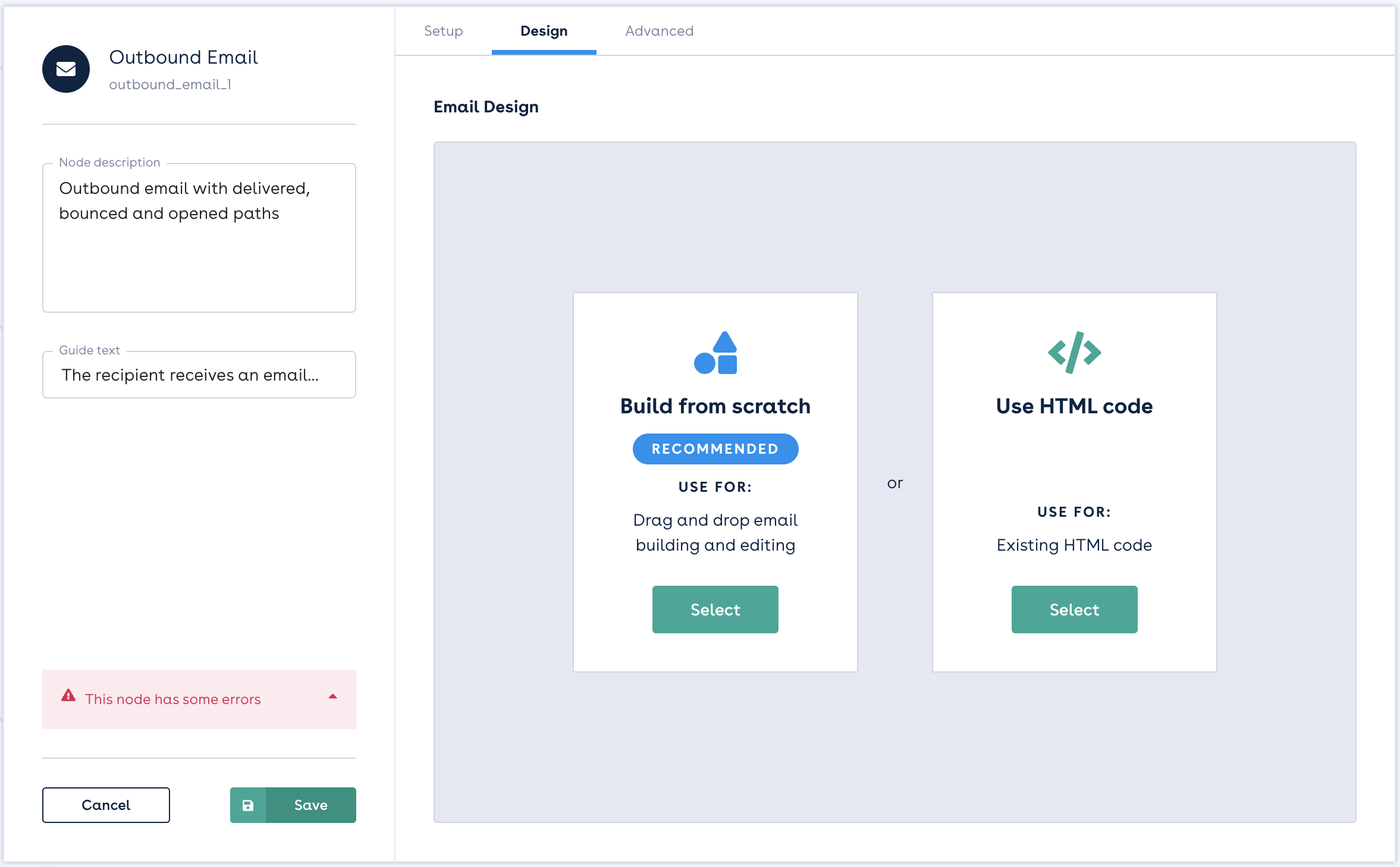 Build from scratch
---
When Building from scratch, you can edit, drag and drop content into the email building screen. The email design panel is divided into several sections:
Content

allows the addition of columns, HTML and other visual elements such as text, buttons, dividers and images. Images can be inserted with an URL.

Blocks allows the addition of pre-made columns with the option to visually customise how the columns and rows look and behave.
Body contains settings that will affect the whole email, including preheader text, content (email) width, background and text colour, links and font family.

Images

contain a library of free-to-use images under Creative Commons Zero.
Further customisation of each content item can be adjusted visually for desktop and mobile by double clicking on the content item.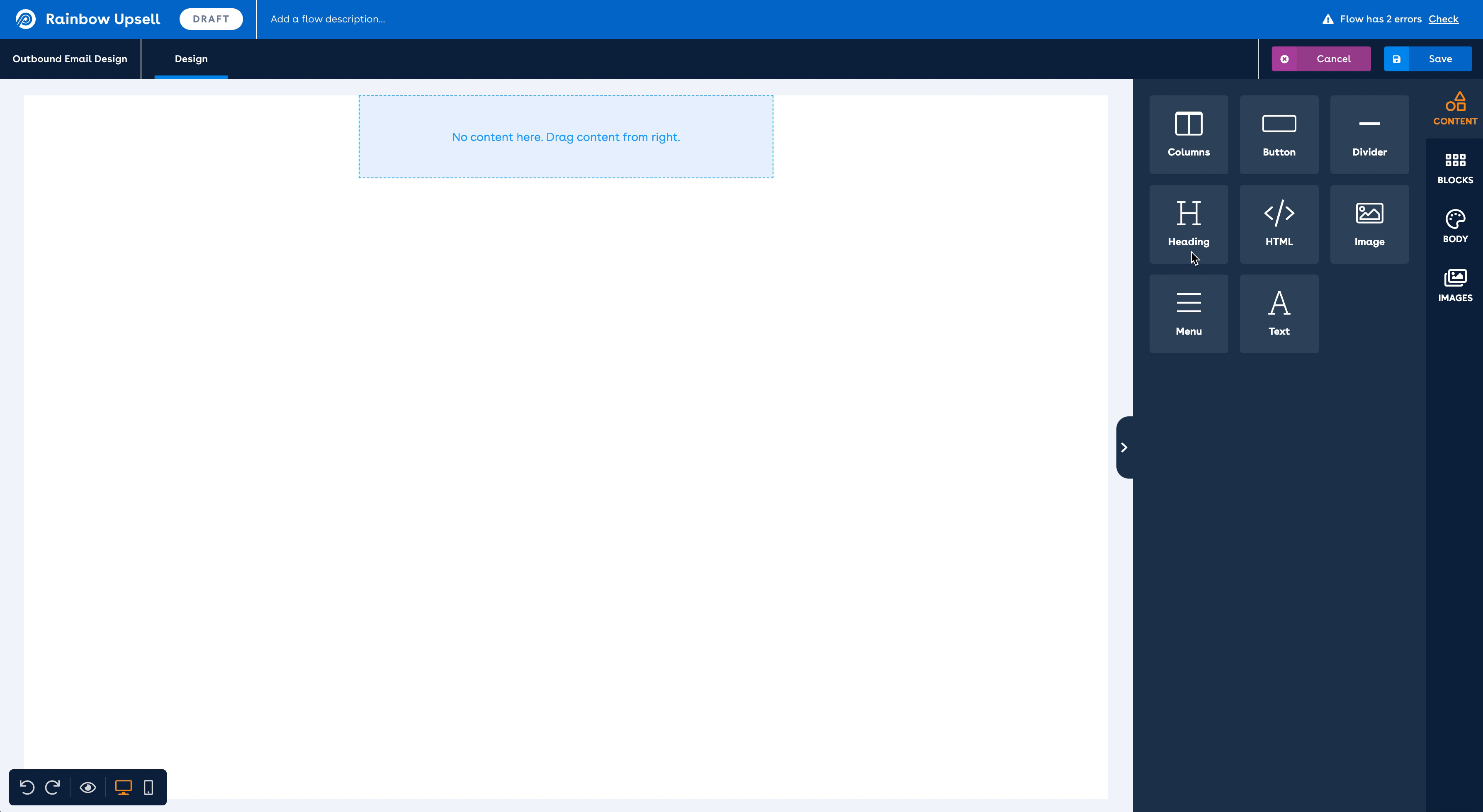 The canvas overlooks the email overall – email content to be moved, undo/redo and previewed.
To move content or a row, hover over the item to reveal the pan icon. Click and drag to new desired place.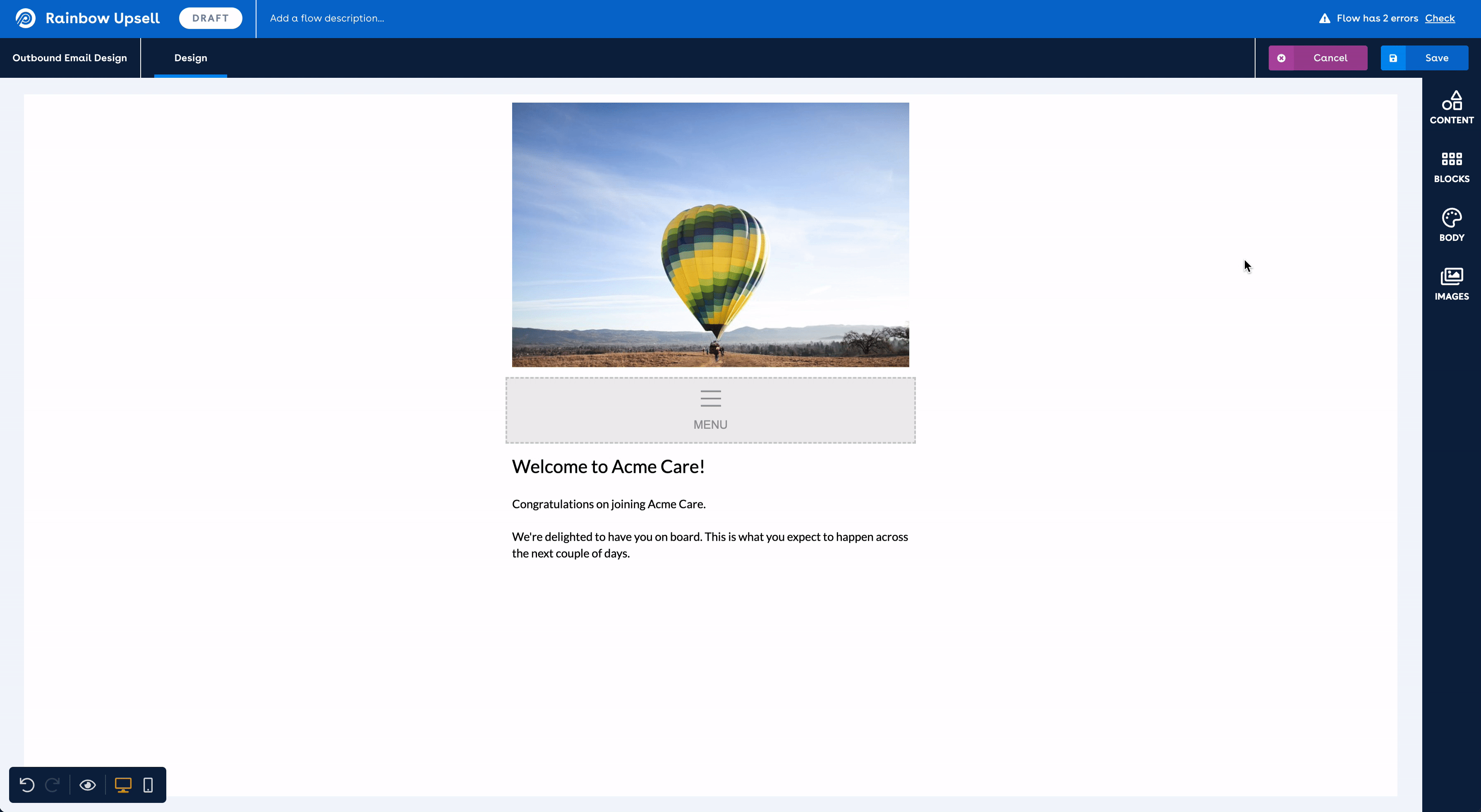 To redo/undo an action, preview an email for different screen resolution, click on the icons located on the bottom right corner.
Once the email is built and behaving as desired, click on the Save icon.
Use HTML code
---
To use custom HTML code, select the button and paste the HTML code into the textfield. You can preview the template before saving the node.
If you use your custom HTML, it may appear differently in your recipient's email client (e.g. Gmail or Outlook) as your HTML may not be optimised by potential email clients.

For example, background images may be rendered in the preview when you use custom HTML code, but if the recipient uses Outlook to preview the email a background colour will be shown instead of a background image. This is because email clients render emails differently from one another. For this reason, we strongly recommend using Pendula's inbuilt email designer builder to ensure visual consistency across potential email clients.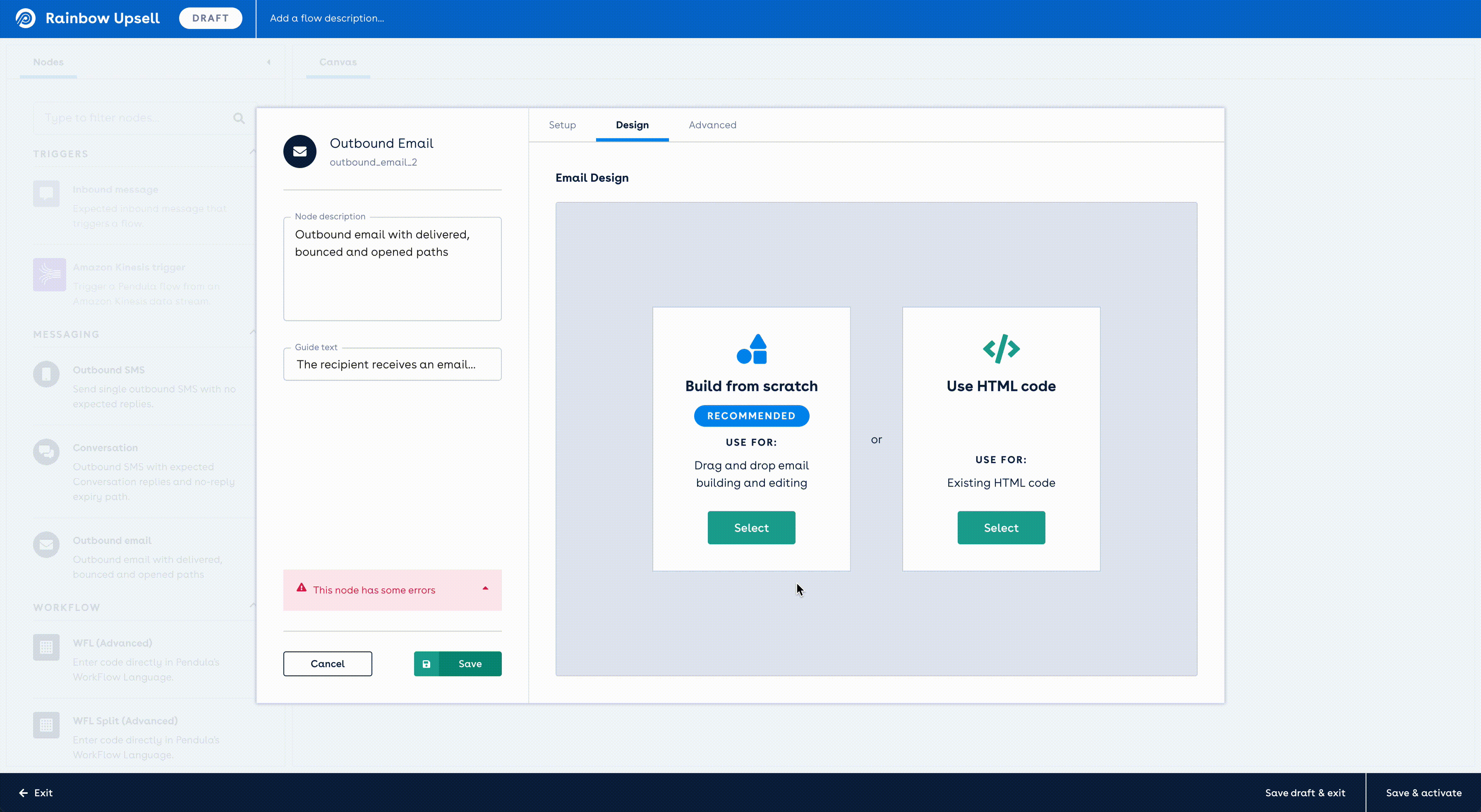 Known issues
Visual difference of paragraph spacing between preview and email sent. In the Email Builder, after pressing 'enter' once between paragraphs, paragraph spacing isn't respected.
| | |
| --- | --- |
| Email builder preview | Email sent |
| | |
Solution: For each paragraph, use a new text block.
| | |
| --- | --- |
| Email builder preview | Email sent |
| | |